 Our Laser Cutting Service
We are a laser cutting business based in Durban, however we laser cut and supply for clients in Joburg, Sandton, Cape Town, Durban, Gauteng, KZN, Western Cape and all over South Africa.
We offer a laser cutting and engraving service for clients who want a cheap and easy way to produce their own products. Laser cutting provides a cheap and efficient way to mass produce a design out of a variety of different materials. The design can be any shape you require, without having to make expensive predesigned moulds or having to rely on slow 3d printing technology to make your design come to life. We can laser cut a large variety of materials including wood, acrylic, leather, foam, rubber, fabric, paper and cardboard. We are also open to requests if you are a specific material in mind and would like to find out if it can be laser cut.
We can laser cut your design in bulk and simply ship your order to you internationally.
We offer some of the fastest turn around times in the industry with our laser cutting service.
We have worked with a wide range of materials including wood, acrylic, glass, rubber, leather, steel & much more.
Our team of talented designers can draft your design for you so its ready laser cutting, packaging and delivery.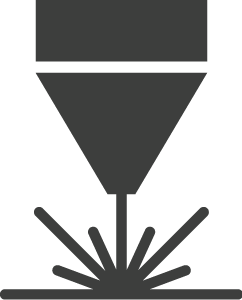 We can laser cut various materials with varying thicknesses & densities.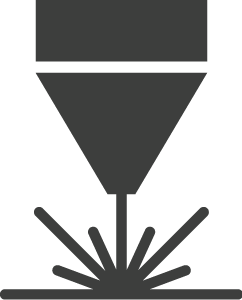 We can engrave any design on many different surface types.
Typical items that we will be laser cutting:
All our listed materials can be cut up to dimensions of 600 x 400 mm. We can cut up to 15 mm in depth depending on the substrate we are cutting, and can fit items up to 300 mm in depth in our machines. If you would simply like an item to be engraved, we have a separate laser engraving page with its own quote form which you can fill out and submit to us.
If there is a material not listed on our website that you would like to cut, please go to our contact us page and fill out the form.
Woods with an asterisk * are double sided and typically need to be ordered upon request. Please indicate which type of wood you would like in the quote form below.  
We have 2 kinds of engraving options available for your products, vector engrave and full engrave.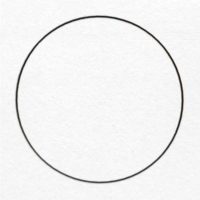 Our vector engrave option is the fastest and the cheapest engraving option available. With a vector engrave, only the outlines of your artwork is traced which greatly speeds up production time. This option is ideal if you are on a budget but would still like to have an engraving. This type of engraving is suitable for any use as the quality of the outlines are very good, but your engraving will not be filled like with a quick or a full engrave.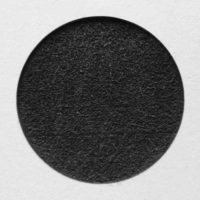 Our full engrave option renders your artwork at a high enough ppi* resolution for you to not notice horizontol lines across your artwork. This type of engraving is useful for items that will be viewed up close. A full engrave always looks better than a vector engrave and a quick engrave, however it is more expensive as it takes much longer to produce. As seen in the image above, a full engrave fills out your entire artwork. This type of engraving is ideal for items such as keyrings, coasters, medals or items you will view up close.
In order to make sure that we maintain a fast and efficient service for our clients, we have a basic minimum order amount for all jobs. We also require that you fill out our quoting form below to provide us with us much information as possible regarding your order.
Please fill in all the fields below
Find out more about our laser cutting service or watch a short video demonstrating  a product being laser cut.